Disclosure: This post has been compensated by Collective Bias, Inc. and AcneFree. All opinions are mine alone. #AcneFreeSummer #CollectiveBias
Summer is now in full swing and now that the temperatures are heating up its time to start reaching for those lightweight tanks and denim shorts! With summer styles being a little more revealing than other seasons, it can be easy to feel a little self-conscious if you're not 100% happy with your skin. Today I want to share how you be AcneFree this summer and feel confident in your skin to rock any summer outfit!
Happy Thursday friends!
I'm sure many of you already know, but I don't ever wear makeup and if the rare occasion that I do it's mainly just mascara and lipgloss. Since I don't really wear makeup I really do try my best to keep my skin looking it's best since I don't have the makeup to "hide" behind. It's no surprise that if you have clear skin you feel more confident. I know I feel my best and feel like I can take on the world when my skin is looking it's best.
A good skincare regimen is a must have for me. I have been working on perfecting my skin care routine and today I'm excited to share some products and tips I've been using to help keep my skin looking it's best!
I don't usually have a big issue with body acne, but I do have the occasional breakouts on my face that can really hurt my confidence. Today my post mainly focuses on my facial skin care routine, but I can also do a separate post on how I take care the rest of my skin if you all would like!
For my skincare routine, I make sure to always wash my face every day. Typically I use a normal facewash every other day and exfoliate my skin in-between.
For my daily morning face wash, I have been using the AcneFree Daily Skin Therapy Acne Wash. This is a great product to use daily to help prevent breakouts and it has
avocado

e
xtract to help reduce shine.
T
his is a great product to care for acne-prone skin.
I typically don't break out unless mother nature decides to visit me, but even then my breakouts haven't been as bad!
To wash my face I like to wet my face with warm water beforehand and add a nice dime size amount to my hands. I gently run the product into my face and rinse it off after I feel like I have thoroughly cleaned my face. Afterward, I rinse off with warm water, pat dry and use whatever moisturizer I am using at the moment. T
his product leaves a very cooling and refreshing feeling on your face after you wash it off which is great for when I use in the mornings to wake me up!
As for what I've been using for my exfoliator, I have been using the AcneFree Advanced Deep Cleansing Duo. This is a great product to help clear blackheads, acne breakouts and gently deep cleans pores. I typically switch between this product and the skin therapy face wash, but you can use either on a daily basis.
For this product, you'll want to gently wet your skin, apply a light layer of the cleanser on your skin and use the brush to exfoliate. The brush has two different speed options to choose from and I typically use the lower speed because my skin tends to get a little irritated if I use the higher one. The brush also has super soft bristles and I love how small it is which makes it super easy to travel with. You can also use this product on your chest and back if you have problems breaking out in those areas as well!
After each wash, I make sure to always pat dry and put on some moisturizer. As for additional tips on how to make sure your skin looks it's best is to drink LOTS of water and wear sunscreen daily! I always joke to RJ that if I don't drink enough water throughout the day I feel like a "prune" and my skin always looks super dry. As for sunscreen, you should really wear it all year around, but especially with being out more in the summer your should be extra cautious on putting some on.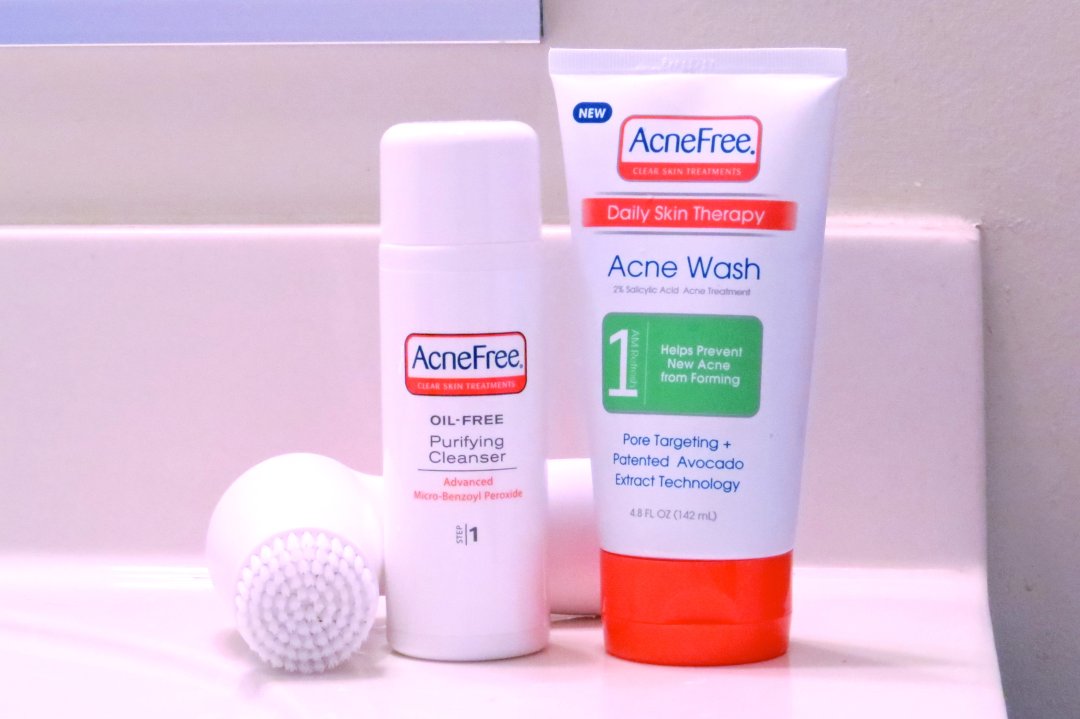 And that's my skin care routine as of late! Since starting this I have been seeing such great results. If you want to have awesome skin and feel confident this summer I would highly recommend checking out the AcneFree line! I purchased my products at my local Walgreens, but you can check out the full line online as well!
What are your tips on making your skin look it's best this summer? Let me know in the comments down below! I hope you all have a wonderful day and as always, thank you for reading!
xoxo,
Amy